Thrive Gym June Newsletter
Message from the owner:
We are really fortunate to have such exceptional members, and at Thrive Gym, we place a high value on member satisfaction! We have staff available sever days a week and are always more than happy to assist you. Please do not hesitate to ask us any questions! But theres good news: it's finally getting warmer! We are very thrilled to begin brining some of our classes outside, and in response to popular demand, we will be introducing a 7 a.m. class Monday through Thursday replacing the 9 am! Join us in LIVING IN A BODY THAT FEELS GREAT!
The weather is finally starting to warm up! We can't thank you enough for choosing this as your wellness home. We enjoy seeing members take use of the space and personalize it. We are constantly striving to improve; please let us know what else we can do to make this a better place. Continue to make this place your wellness home throughout the summer, and don't forget to share your progress stories with us in person or on social media, as we always applaud large, little, conventional, and unconventional accomplishments. Every day is a fresh opportunity, so let's make this summer the greatest ever!
Smoothie of the Month:
          Summer Bash! 
Add Protein for just $1!
Exercise of the Month:
Single Arm Bent Over Reverse Fly
The reverse fly, also known as the rear delt raise or bent-over dumbbell reverse fly, is a weight-training exercise that targets your upper-back muscles and shoulder muscles, notably the posterior deltoids (backsides of your shoulders). Reverse flys are an isolation exercise that can help you prepare for more difficult compound exercises such as deadlifts, bench presses, and inverted rows. 
The reverse fly exercise can also engage the triceps, rhomboids, infraspinatus, and other scapular muscles surrounding your shoulder blades if done correctly. Kettlebells, barbells, and fly machines are all used in variations of the reverse fly.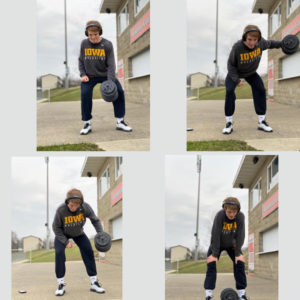 How to Do Reverse Flys With Perfect Form
Grab two dumbbells and stand with your feet hip-width apart and your knees slightly bent. 

Your shoulders and hips should be parallel. Keep your head and neck in a neutral position. Throughout the action, keep your chin tucked, as if you were cradling an egg beneath your chin. 

To achieve a sturdy stance, evenly distribute your weight and grab the floor with your feet. 

Hinge your hips back while keeping a neutral spine. You should have your shins vertical and your upper body at a 45-degree angle. Your legs should be working hard to keep you in place. 

Keep your arms extended, your elbows slightly bent, and your palms facing each other.

To activate your lats, rotate your shoulders outward. The prolonged posture of your shoulder blades is ideal. This is where all repeats should begin. 

Squeeze your upper back muscles to start the upward movement while keeping your alignment with a small bend in your elbows. 

Raise your arms till they are parallel to your back. Your shoulder blades should retract when you raise the dumbbells. Your upper arms should be higher than your

hands. At the height of the movement, pause. 

Return the dumbbells to their starting position by slowly lowering your arms. Your shoulder blades should protract as you drop the weights. Before starting the following iteration, take a breath.
Challenge of the Month:
Longest Distance Ran:
Challenge yourself this month by tracking your progress and personal by running as far and long as you can! The member with the most miles ran in one single workout wins a FREE 1-month membership with us!
Submit your end results in person at the front desk or via email to:
Good luck to all!!
Benefits of Long Distance Running:
Prevents high blood pressure
Thrive Gym's Student Athlete Program:
Student Athlete Program with Nikolai Exclusive to Thrive Gym
Start date: June 13th, 2022
Duration: 1.5/2 hour(s)
PRICING: $75 – 5 class punch card ($15/session)
We offer 3 (morning) sessions a week.
Monday, Wednesday & Friday @8:30am
Back for another year, offering an outlet for youth athletes (ages 11-18) to develop technique, learn skills, enhance strength. Utilizing a safe, confined and fully equipped facility only at Thrive Gym!
We'll work on: Athletic development, learning proper training techniques, enhancing fitness and strength, Creating good training habits, & MORE!
It will vary daily, but will combine plyometrics, weightlifting, calisthenics, core stabilization and overall strength and balance movement.
We will also have outdoor and indoor activities in various sport disciplines and events. Our strategy will include fusing sports and training, using the medicine + Swiss balls as well as other equipment the gym provides! See you there!
LIVE GE Class Schedule:
MONDAY
7:00am-7:30am CardioBLAST
TUESDAY
5:45am-6:15am Spin & Strength
7:00am-7:30am Spin & Strength
6:00-6:30pm Boxing (gloves & wraps needed)
WEDNESDAY 
7:00am-7:30am EMOM
6:00pm-6:45pm Zumba
THURSDAY
5:45am-6:15am Power Up
7:00am-7:30am Power up
5:30pm-6:15pm NineFifteen 
FRIDAY
9:00am-9:45am Zumba
SATURDAY 
8:00am-8:45am Spin
9:00am-9:45am Kickboxing
9:15am-10:00am NineFifteen
Looking to Kickstart your fitness career? Thrive Gym is NOW HIRING a Spin and Yoga Instructor!
Create your own class designs with FULL access to unlimited and unique equipment! If you or anyone you know is interested, please reach out via email at Thrivegym.fr[email protected] or feel free to give us a call at 319.499.1009
Hiring a physical therapist:
If you, or someone you know, is a licensed physical therapist looking to expand their career please have them inquire about a special business opportunity by reaching out to us at
[email protected]
Let us help YOU "Live In A Body That Feels Great!"
Our certified Personal Trainers are ready to hold you accountable + help you crush your fitness goals! Start TODAY!!
Please Inquire at 319.499.1009 or via email at: [email protected]
CALLING ALL TOWELS!! WE MISS YOU, PLEASE COME BACK!
In order to continue to provide this service, ALL towels must stay at Thrive!
For your convenience we have 4 drop-off bins available (including my favorite one next to the front door – so in case accidentally brought it ALL the way upstairs with you, you won't have to make the trip back downstairs) THANK YOU SO MUCH!
Do you have our Zen Planner Member App?
With new classes and limited equipment, we ask members to PLEASE reserve their spot for our classes ahead of time. This helps us ensure your spot and make adjustments to the classes if needed. When you signed up for Thrive Gym, you should have gotten a welcome email that explained how you can download this app with a temporary password! If you did not receive this email or can't find it, just send us an email or stop by the front desk and we will email you a link to get all signed up or change your password for Zen Planner!
What are the benefits of having this App?
– Quickly contact us directly
– Easily edit your profile if your address/number/email changes
– Check daily class schedules
– Reserve your spot in our classes (limited capacity)
-Reserve Kids Care
Follow us on social media + hashtag us!
Please follow us on our social media platforms for updates, news, motivational posts, fitness tips, and more!!
Virtual Classroom (Fitness on Demand)
How To Use The iPad:
Press the home button to wake up the screen
How To Choose and Play a Class:
Click on the 'Videos' tab
Scroll through the classes and choose which one you would like to do
Click on the class you would like to take
Class details will pop up and you are able to read about the class and what equipment it requires
Click on the play button in the middle of the screen and the class will start on the TV downstairs) THANK YOU!
We offer many different types of classes – mind & body, strength, spin, cardio, tabata, and more!!