Welcome to the Thrive Gym July Newsletter! We are so happy to be able to have our members back in the gym! The Thrive Gym Newsletters will be coming out on the 1st of every month following this one! These newsletters will contain important information regarding Thrive Gym and what we have going on for the month, so tune in!
Please continue to follow our COVID-19 Safety Regulations to keep you, our members, and staff safe!
We will be open the morning of July 4th from 7am-12pm! Come get a good workout in before celebrating!
Message from the Owner
Welcome Back Thrive Gym Family!!
We are so excited to be OPEN and offering you a safe environment to embark on your fitness goals again! Please LIKE us on facebook, follow us on Instagram and check your email for all of the great things we have planned this month! I would like to personally thank each and everyone of you for your patience and support during the last few months and to recognize all paying/active memberships throughout the pandemic, we have reserved a special Thrive Gym product for you as a token of our appreciation. Please stop by the front desk during the month of July to redeem your gift!
We are always open to feedback and suggestions so please don't hesitate to reach out @ [email protected]
Thank you for making Thrive Gym your home to living in a body that feels great!
-Kaaren Vargas
As a thank you to all of our paying/active members throughout the pandemic closure, we have awesome Thrive Gym water bottles for you! Please stop by the front desk during the month of July to redeem your gift! We have a list of all members who paid throughout the closure!
LIVE CLASSES
We miss you too… join us on the days and times below for one of our LIVE Group Exercises with Kathy, @ Thrive Gym in the month of July!!
– HIIT Class: 5:45am-6:15am Tuesdays & Thursdays
– Spin Class: 9:30am-10am Wednesdays
EXTENDED WEEKEND HOURS
Monday-Thursday 5am-10pm
Friday 5am-9:30pm
Saturday 7am-6pm
Sunday 8am-6pm
THRIVE GYM STUDENT ATHLETE PROGRAM
We are offering an innovative student athlete strength, speed, & agility summer program! OPEN TO ALL STUDENTS AGES 14-18
Gain strength, speed, agility, confidence, and learn proper lifting form with a program offered EXCLUSIVELY at Thrive Gym to reinforce elite sport performance this fall! Train today for success tomorrow!
Group Training or 1-on-1 Training options available! Please inquire @ 319-499-1009 or [email protected] for details!
Smoothie of the Month: Pineapple Passion
The Pineapple Passion is 50% off for the month of July! 7/1/2020-7/31/2020
$5 Monthly Membership Hold Fee
We know life happens…just know we're here for you when it does!
Need to place your membership on hold? Please email us at [email protected] and we will take care of the rest.
The cost to hold is just $5+tax/month and will ensure you lock in your current rate for guaranteed pricing upon your return! (Can be done for up to 3 months out of 12 months)
SAUNA
Please continue to reserve sauna spots through ZenPlanner Member App or stop by the front desk to reserve a time when you are at the gym!
Refer a Friend Special Offer
Wouldn't it be more fun to workout with your friends??? Refer a friend to Thrive Gym and you BOTH will get 15% off of your next month of membership! Have your friend fill out a referral sheet when they sign up to make sure you receive the discount!
Exercise of the Month – The Burpee
Here we have 5 photos of Kathy doing a burpee!
1. Stand with your feet shoulder width apart
2. Lower your body into a squat position
3. Place hands on the floor and jump (or walk) feet back into a plank position. Body should be in a straight line from your head to your heels, squeeze that core to maintain proper position
4. Jump (or walk) feet back into a squat position
5. Explosively return to a standing position
Challenge your Burpee:
1. Add a push up in the plank position
2. Add a knee tuck to the explosive jump
3. Perform the entire burpee on just one leg and then switch
GOOD LUCK!! 🙂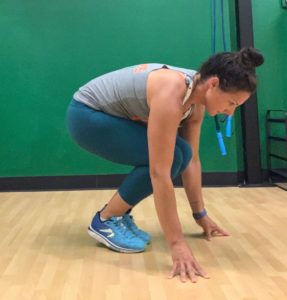 Virtual Membership $15/month
For those still social distancing and are not comfortable coming into the gym yet, we have a Virtual Membership Option available for YOU!!
For ONLY $15 A MONTH, you will get access to over 500 awesome Fitness On Demand classes right from the comfort of your home through your TV, phone, computer, etc.! Send us an email at [email protected] for more information and to sign up!
This program offers a WIDE VARIETY of classes!
– Strength classes with & without weights
– Cardio based classes: HIIT, Dance workouts, & Mixed Martial Arts
– Cycling for those who have a bike at home!!
– Mind & Body classes that incorporate Pilates, Yoga, & Barre
– And MANY more exciting and innovative classes for you to try!
NEW Day Care/Youth Classes – COMING FALL 2020
Thrive Kids (TK) Care Classes (Ages 9mo. – 8yr.)
We know just how important fitness and wellness are to YOU and beginning this fall we will be relaunching our daycare designed around movement classes to include our littlest Thrive Family Members! As part of our commitment to making active and healthy lifestyles an important part of our children's lives, Thrive Kids (TK) classes help build physical, mental and emotional skills to introduce them to a pathway of health and wellness to last them a lifetime!
(45 – 60 min. class duration & just $5/hr.+tax drop in fee)
GET SOCIAL WITH US AT THRIVE GYM
Join us at Thrive Gym on Saturday, July 18th from 11am-2pm to help us get some new Social Media content!! We want LOTS of photos and videos of our STRONG members working out and having fun at Thrive Gym! Get featured on our website and social media, meet our staff and other members, and more! We will have ½ price smoothies and contests with prizes!!
We will have an awesome photographer/videographer at the gym taking photos and videos of our awesome staff and members working out! With member consent of course!
THRIVE GYM – LIVE IN A BODY THAT FEELS GREAT